Hospice, Palliative & Home Health Care Services in Redmond, Oregon
Partners In Care supports vulnerable seniors and individuals with serious illness or injuries who wish to receive care in their home in the beautiful high desert community of Redmond. We provide home health services, high quality and compassionate hospice care, support and guidance during serious illness, and access to community resources. We support the growing Redmond community by allowing residents to continue to live productively within the community and enjoy our unique combination of small-town charm and convenient access to regional healthcare.
Our six lines of service are supported by more than 200 Central Oregon employees and around 150 local volunteers. For the second year in a row, Partners In Care was recognized with five stars on the CAHPS (Consumer Assessment of Healthcare Providers and Systems) Hospice Survey, which measures patient and family satisfaction with hospice care teams. Partners In Care is one of only two hospice organizations in Oregon to receive a five-star quality hospice rating.
A local partner, the Redmond Senior Center offers free community activities for all Redmond seniors, such as fitness classes, bingo, social activities, and community meals, all with free transportation to the Center.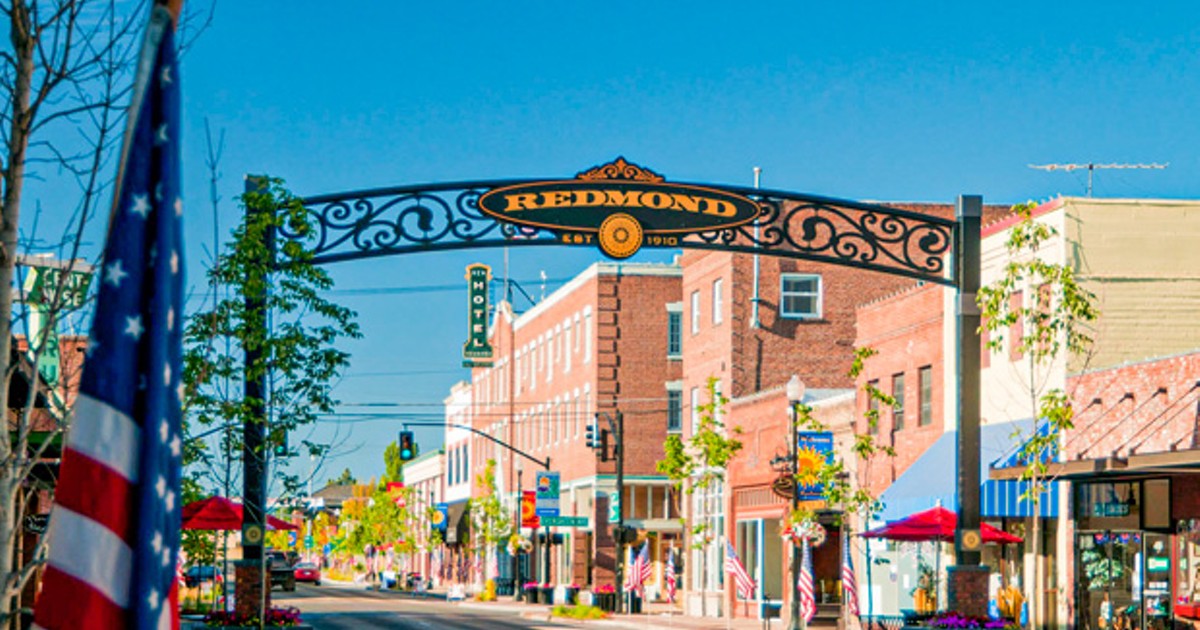 Hospice Care in Redmond
We offer patient-centered home hospice care for a life-affirming experience that combines physical, emotional, and spiritual individual and family support based on each patient's unique needs.
For patients who need more intensive care, the nearby in-patient hospice facility in Bend provides end-of-life or respite hospice support in a beautiful and peaceful setting that welcomes family togetherness. Hospice House at Partners In Care is the only inpatient facility east of the Cascades.
Home Health Care in Redmond
Redmond residents who are homebound and facing a temporary serious illness, injury, or need for recovery from surgery need specialized support from expert caregivers to properly heal and return to self-sufficiency. Partners In Care offers home health support, including skilled nursing, physical therapy, occupational therapy, and speech therapy to help individuals recover and return to living their lives.
Grief Support in Redmond
Partners In Care offers adult grief support that is sensitive to the diverse ways that we grieve before and after loss, including methods for handling guilt, sadness, and mood swings universal to all periods of grief. We also provide grief support for children through a summer camp in partnership with local counseling organization Clear Mourning, rooted in our understanding that grief affects children differently than adults and varies based on the emotional maturity of each child.
Palliative Care in Redmond
Palliative care is specialized medical care for people with a serious illness. Partners In Care combines our expert, palliative care services with family support to help your family member or loved one enjoy a better quality of life. We focus on symptom and side-effect treatment with access to an interdisciplinary team of palliative care specialists. We help you live your life the way you want to.
Transitions Support in Redmond
For residents who have a life-limiting illness but may not qualify for home health or hospice care, Partners In Care provides a free program called Transitions to the community. This non-clinical, resourced based service focuses on friendly, available help, resources, and case management no matter your living arrangements.
Veterans Support Services in Redmond
Our unique veteran's outreach program led by a Marine Corps veteran provides dedicated Veterans Outreach Coordinators who help Redmond veterans on Partners In Care services gain access to resources, get connected to the VA for benefits and healthcare, provide support for each veteran's caregiver, and even offer dignity and recognition of a veteran's service through our We Honor Veterans Program.
Donate
Partners In Care is a 501(c)3 nonprofit organization welcoming donations to support our various services, grief support, and a complete range of important programs. Partners in Care is a non-profit, meaning that all proceeds and financial decisions serve the interests of our local community. Partners In Care is an ideal way to donate to a nonprofit in Redmond and to donate to hospice care near you.
Volunteer
Anyone with an open heart and drive to help can volunteer with Partners In Care to provide friendly visits and a wide variety of services to those in need. Volunteers make a remarkable difference for hospice patients and their families. We especially need volunteers to help us honor veterans and offer special hospice care volunteer opportunities in Redmond for qualified volunteers.
Workshops & Classes
Partners In Care offers workshops and classes for caregivers, volunteers, and anyone who wants to learn more about how to support those facing medical or emotional hardship or trauma. Our grief and loss support workshops occur throughout the month and are open to anyone in the community.
Education & Resources
Our available education services help those caregivers and family members support their loved ones to understand end-of-life considerations, explore home health resources, and link to additional community services.
Contact Us
Call us anytime to discuss how we can help you and your loved ones at (541) 382-5882. For medical emergencies, call 911.