Find Your Purpose at Partners In Care
Start a rewarding career with the leading hospice, home health, and palliative care provider in the Central Oregon region.
Partners In Care offers career opportunities that support patients and their families during their most difficult and challenging times – recovering from surgery, living with a chronic or serious illness, coping with a terminal condition, or dealing with the loss of a loved one. If you're looking for fulfilling work, a career in the hospice, home health, or palliative care industry may be right for you. You will gain valuable experience in a special medical field, expand your knowledge, and make a real impact on the lives of others. A career at Partners In Care isn't just a job for our employees – It's a way of getting more out of life and giving back to your community.
Join the Partners In Care team where you'll find:
Collaboration, trust, and respect among peers
People contributing at their full potential
Patient census that is strong and strategic goals that are exceeded
Communication that's open and authenticity is valued
A high-performing team that is engaged and productive
Compensation which is competitive and benefits that are generous
Sign-on bonuses for many of our open clinical positions
The highest quality of care which has earned top medical quality ratings
Partners In Care Employee Benefits
Two Healthcare Insurance Plan options
Two Dental Plan options
Life & Disability Insurance
Vision Insurance
Employee Assistance Program
Flexible Healthcare Spending Plans
Aflac and Legal Shield Plans (both voluntary)
MASA – voluntary transportation benefit
403b retirement savings with employer match
Competitive Paid time off
Mileage reimbursement and fuel cards
Comprehensive orientation training and ongoing education and support
Fun employee social gatherings and celebrations
Note: A complete outline of all benefits, eligibility, and enrollment details will be provided to applicants during the hiring process.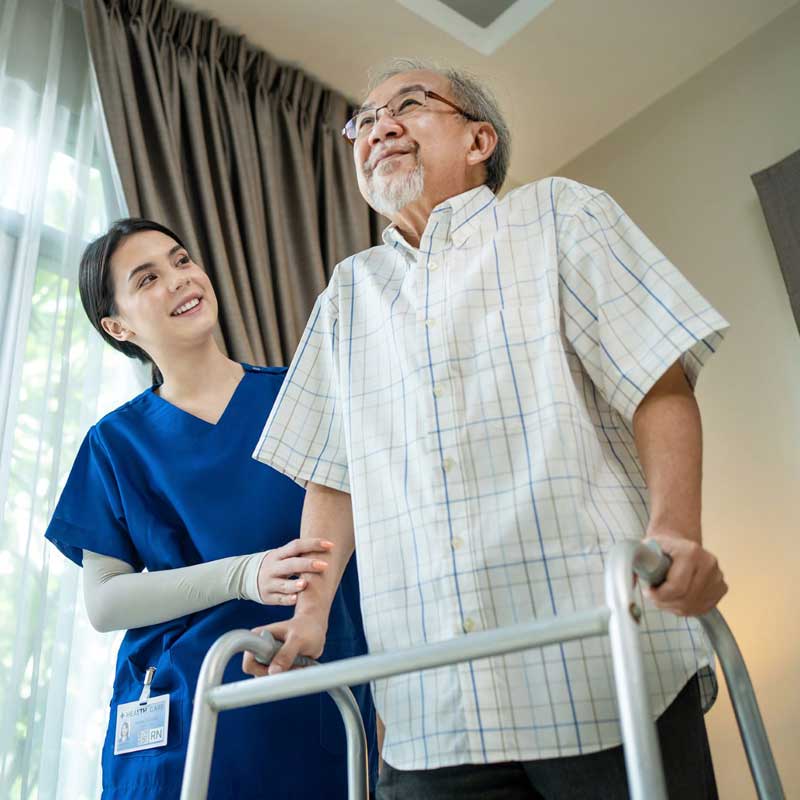 Our staff members are appreciated…
"I want to applaud and embrace your staff who supported me and our family as our dad transitioned. I, too, am in health care. I appreciate beyond words your care, validation of my concerns, communication, and overall kindness. Losing a family member is not an easy thing. However, your time, attention, and follow-up made a huge difference. Thanks to the RNs, social worker, and pastoral care team. You are all first class!"
Careers at Partners In Care
Approximately 200 employees and 150 volunteers currently serve patients and their families at Partners In Care through six service lines: Hospice, Home Health, Palliative Care, Hospice House, Transitions, and Grief Support. Roles include:
Physicians and Nurse Practitioners
Registered Nurses (RN, BSN, MSN, Case Managers) and Licensed Practical Nurses (LPN)
Licensed Clinical Social Workers
Grief Counselors, Chaplains, Caregivers
Home Health Aides, Home Care Assistants, Certified Nursing Assistants
Support positions include Clinical Supervisors, Quality and Compliance, Information Technology, Business Development, Volunteer Coordination, Communications and Marketing, Community Outreach, Financial Services, Resource Development, Referral Services, Customer Service/Reception, Support Services, Facilities and Safety Coordination, and Human Resources.
Our staff truly believes in the work they do: it's about making a difference in someone's life, and we take that to heart.
Diana and Somer, Hospice House CNAs

"I see the quality of care we provide every day with our team at Hospice House. That rises when you have a very cohesive team, and every day we all work together to be there during a potentially fearful time for patients and their families," shared Diana and Somer. "This job definitely isn't for everybody. It's a very special experience for those of us who stick with it; being there during a very vulnerable time, it can be a beautiful thing."
Anna, Hospice RN

"I knew Partners In Care was the best hospice in town. In nursing school, a professor said that everyone focuses hard on how to live well, but very few focus on how to die well, and that made a profound impact on me. I've always been interested in the sacred dying process as it's something we will all face."
Narly, HR Specialist and Spanish Interpreter

"I really enjoy helping others and making things easier. Outside of what I do for our own team at Partners In Care, I may be at the hospital three to four times per week helping families. Sometimes understanding the clinician or family member in these times of need is a matter of life or death."
These documents are for you to review when applying for employment with Partners In Care:
Partners In Care does not discriminate on the basis of race, religion, color, national origin, ancestry, age, disability, physical or mental disability, gender or gender identity, sexual orientation, marital status, or medical condition.
Partners In Care cumple con las leyes federales de derechos civiles aplicables y no discrimina por motivos de raza, color, nacionalidad, edad, discapacidad o sexo.
Partners In Care erfüllt geltenden bundesstaatliche Menschenrechtsgesetze und lehnt jegliche Diskriminierung aufgrund von Rasse, Hautfarbe, Herkunft, Alter, Behinderung oder Geschlecht ab.