The loss of someone you love can be a stressful, emotional experience, and it's important to embrace the grieving process as a natural, universal response. News of a terminal illness can also lead to family members grieving even before death has occurred. A person in hospice care who is dying may feel grief for leaving people behind or having unfinished goals in life. Grief and accompanying behaviors are complex, and no two individuals experience it the same way.
When grieving, you may notice a roller coaster of reactions such as denial or disbelief. You may feel shocked and numb. There may be mood swings from anger to sadness within a short time. One feeling that can be especially difficult is guilt. You may feel fine for a time and then experience an unexpected wave of intense grief. These are all very normal responses, and no one can predict their order or frequency along the grief journey.
Children Suffer Grief Differently
Children and young adults react in different ways than adults to a major loss. Their understanding of the permanence of death is dependent on their age. Also, each child is different in their emotional development and maturity to cope with the change around them. They watch how adults are reacting and may be confused on how to respond. This may be their first family death and funeral service. The age of the decedent and reactions by adults will shape their responses. Childhood grief is complicated, and the management of that can affect them throughout their lives. Adults should be mindful that children are recognized and included in grief support.
Partners In Care Helps Families Cope with Loss
It's important to know that there are no right or wrong ways to grieve, but there are healthy ways to cope with loss. Grief counseling offers a safe space for people to process their feelings, recognize behaviors that are a normal reaction in the grief process, and builds the bridge needed to move forward after the loss.
Partners In Care offers specially trained, professional grief counselors who can support adults and children with compassionate care during this difficult time. We also host grief classes and support groups listed below. We encourage our patients and their families to take time to connect with our counselors and reach out to our grief support services. If you're grieving and need support, we welcome your call at 541-382-5882. Please ask for Carla to learn more about our grief services.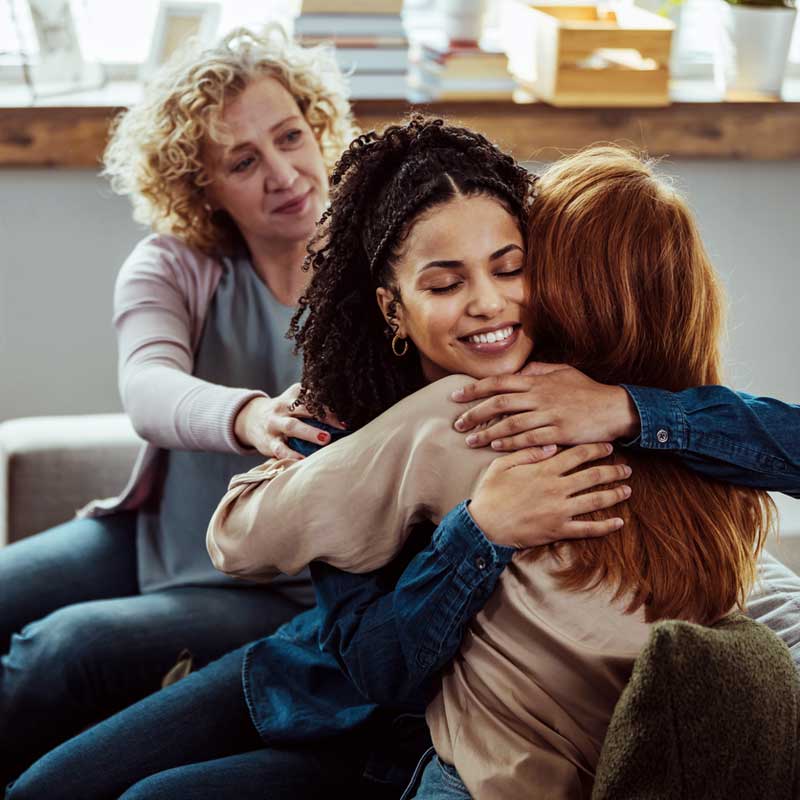 Camp Courage is a three-day, free, summer art camp that provides a safe, healing, and supportive environment where youth can share and express their feelings of loss and grief. It's held each summer and bereavement specialists help children understand and express their loss using a variety of fun and meaningful tools.
Youth from Central Oregon who have experienced a loss and are experiencing grief are invited to register and participate in this art-based grief program. As one former participant shared, "It's just so good to know I am not alone and that even when you're grieving, you can be together and have joy."
This year, Camp Courage was organized by a local non-profit partner, Clear Mourning. with significant support and partnership from Partners In Care. The camp happened in June of this year and will be planned for Summer 2024. Anyone interested in receiving more information can sign up for their newsletter at www.clearmourning.org 
Grief Support Groups & Classes
Mindfulness & Grief Class
Partners In Care offers in-person bereavement support groups for a variety of needs. These classes are available at no cost and open to anyone in the community. Please call (541) 382-5882 and ask for Carla to get more information and to register.
This holiday season we are offering a support group from November 16 to December 14 on Thursdays from 2:30 - 4 pm. Holidays can be an especially demanding and stressful time when we are grieving a loved one. Memories serve as constant reminders of loss. Watching others celebrate can be painful and overwhelming. This six-week group will offer not only support but also strategies to help individuals cope with the demands of the holiday season. This is not a drop-in group; please call Carla above to register.
A support group for people who have lost a spouse or significant other. The eight-week peer support group will provide a safe place for individuals to share the grief journey toward healing after the death of a partner. Please call Carla (541) 382-5882 to register. Drop-in is not allowed, you must be registered.
Tuesdays – 10:00 AM to 11:30 AM Oct 10 to Nov 28
Reinvesting in life after loss is less painful when the grief journey is shared with others. In this eight-week session, group participants share their personal experiences to find hope, connection, and solace together. Please call Carla (541) 382-5882 to register.
Thursdays – 11:00 AM – 12:30 PM Oct 12 to Dec 7
The eight-week class defines mindfulness and offers instruction on managing the complicated grief process with skill building tools such as present-moment awareness and using meditation and the breath to stabilize difficult emotions and intrusive thoughts that occur related to stress and the grief experience. Please call Carla (541) 382-5882 to register.
Mondays – 2:00 PM to 3:30 PM Oct 2 to Dec 4