Exceptional Hospice Care in a Home-Like Setting
Patients often prefer to spend their final days in their home, but we recognize that hospice patients sometimes need additional, specialized end-of-life care when symptoms cannot be managed in the home environment. Hospice House at Partners In Care is a specialty hospital for inpatient hospice care, creating an oasis of tranquility and comfort during this difficult time where families can be together without the responsibility of personal care of their loved one.
At Hospice House, every detail for the patient is attended to by a staff of physicians and registered nurses, many who are certified in palliative and hospice care. They are joined by certified nursing assistants, social workers, counselors, chaplains, volunteers, massage therapists, musicians, and others to embrace the patient and their family members and deliver excellent, compassionate care. We're here to make the final moments of life comfortable, dignified, and peaceful.
When intense symptom management support is needed, Hospice House provides exceptional hospice care in a peaceful, homelike setting. Once symptoms are managed, patients may return home to resume care from their regular hospice team. Also, if a loved one of a hospice patient in the community could use a temporary break from daily caregiving, Hospice House is a safe and comfortable place for patients and respite for the caregiver.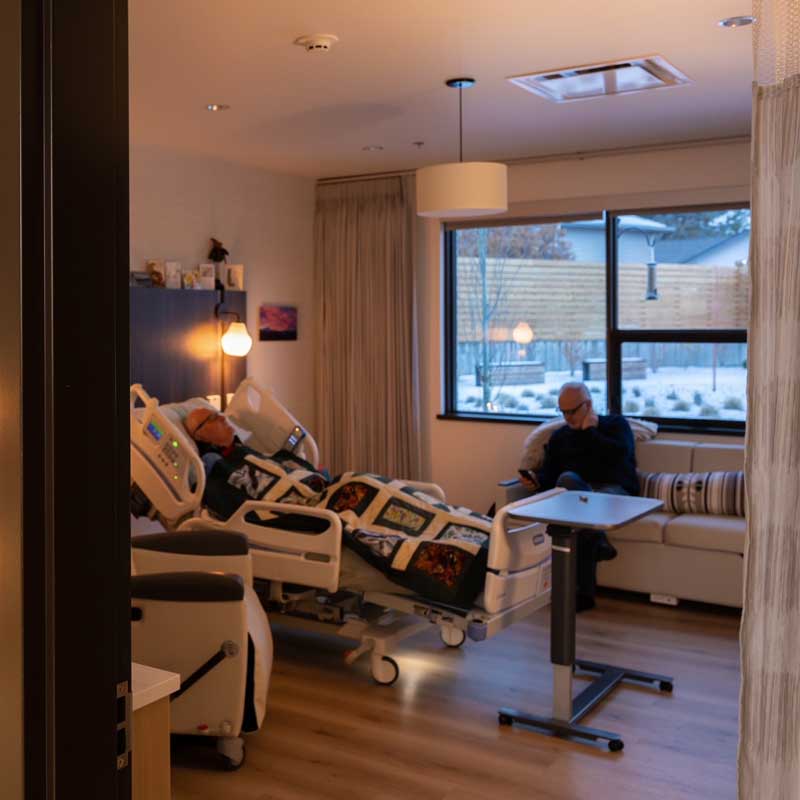 "It's easy to be grateful when there are wonderful people like you in the world. Your kindness, caring hearts and comfort were a tremendous help to my family while you tended to my mom with dignity. Although this was a difficult time, we felt very comforted she was in the best hands. The Hospice House facility was wonderful for us to use as a family. I will be forever grateful for your care of mom in her and our time of need."
About Hospice House
Hospice House has been built with the whole of family in mind. We offer spacious, private suites for family visits at any time. Each room has an additional pullout bed for family members to spend the night, separate full bathrooms where loved ones can assist in caregiving if they desire, and ample space for visitors. Hospice House has been impeccably designed with abundant natural light, colors inspired by nature, and the warmth of wood which embodies the Central Oregon environment. Guests enjoy walking paths through professionally landscaped areas that invite the outdoors into the full Hospice House experience.
Hospice House Welcomes Your Whole Family
Families appreciate the common room with a fireplace, dining areas, activity room, playground, media access, and extra amenities with massage services, musicians, and therapy HosPets. Family pets are also welcome to visit and we offer a Pet Park in our garden area.
Guests may use the kitchenette, soda and ice machines, outdoor pavilion, and other amenities available.
Holding vigil for a loved one is a peaceful experience in the beautiful chapel designed for people of all beliefs. Universally comforting elements are represented by earth, air, fire, and water to help generate feelings of familiarity and serenity. Bereavement counseling and spiritual support is available for anyone at the Hospice House.
Learn more about joining our team at Hospice House.
Find Additional Information & Resources here.
When is the right time for Hospice House?
Hospice House is best for someone who cannot have their symptoms managed at home and need around-the-clock support from our team. Hospice House is also available for respite care, when a caregiver of someone on hospice must travel out of the area, needs a break, or could use an extra layer of support. If your loved one is being served by our hospice team, and you would like to learn more about how our Hospice House can provide advanced symptom management 24/7, please contact our team.
Who is eligible for Hospice House?
Anyone from the community on hospice services would be eligible, and this includes people who may be on the services of a different hospice organization, at the hospital, or at a rehabilitation facility. The new Hospice House is the only inpatient location serving east of the Cascades, and anyone in the community who meets the requirements for admission to hospice could be supported by our team at Hospice House.
What types of services can I expect with Hospice House?
Both inpatient and respite hospice services are available 24 hours a day, 7 days a week, 365 days a year at Hospice House. Our team at Hospice House includes physicians and registered nurses, certified nursing assistants, social workers, counselors, chaplains, volunteers, massage therapists, musicians, and others.
Who pays for Hospice House?
Hospice House is included under the Medicare Hospice Benefit; we have also had patients use other insurance, private insurance, and community charity as a nonprofit organization.
Are there extra requirements for going into Hospice House?
Patients have to qualify for admission to Hospice House. There are different qualifications for both inpatient and respite care; doctors have to approve someone needing inpatient or respite care. If you are interested in the care at Hospice House, we recommend you speak with your doctor first, or contact our team to discuss requirements.
How does someone get admitted to Hospice House?
If you or a loved one are already on hospice, speak directly with your care team. If you or your loved one are not on hospice, speak with your provider about needing hospice care. You must meet specific requirements to be admitted to hospice first. If you do not have a provider, please contact our team at Partners In Care, and our hospice physicians will evaluate you for admission.