Partners In Care Services
Guiding and Supporting Families through Hospice, Palliative Care, and Home Health Services
Partners In Care has touched thousands of families throughout Central Oregon for over forty years as the leading provider for
hospice
,
palliative care
, and
home health
services.
Central Oregon doctors refer their patients with a life-limiting illness to Partners In Care more than any other hospice service knowing they will receive the best care for physical comfort, emotional and spiritual support, and practical guidance.
Contact us for more information
Our Team
Our interdisciplinary team of outstanding medical providers, skilled nursing staff, counselors, and care coordinators lift patients up with hope, dignity, and respect. Local volunteers provide an extra layer of support. Patients and their families trust our entire team for its genuine compassion and expert guidance.
Every person at Partners In Care embraces a life affirming philosophy that focuses on the whole person. A patient and their family's wishes are guiding their circle of care. We lean into the hopeful side of anyone's illness believing there's plenty of quality in life to experience.
Our Care
Our services go well beyond other hospice organizations. We provide a full spectrum of care, from an advanced illness and recovery to end-of-life care, at both the patient's home and Hospice House. Our services offer extensive grief support to the community.
The non-medical, free Transitions program helps people who are medically fragile with a life-limiting illness and could use a helping hand identifying resources. In all of the care we provide, we have a special place in our heart for Veterans who are embraced with additional support and services.
We invite patients or their family members to connect with us to understand the options for a better overall care experience. With modern telehealth visits, home health services, and a focus on comfort, we can tailor any patient's care to their lifestyle.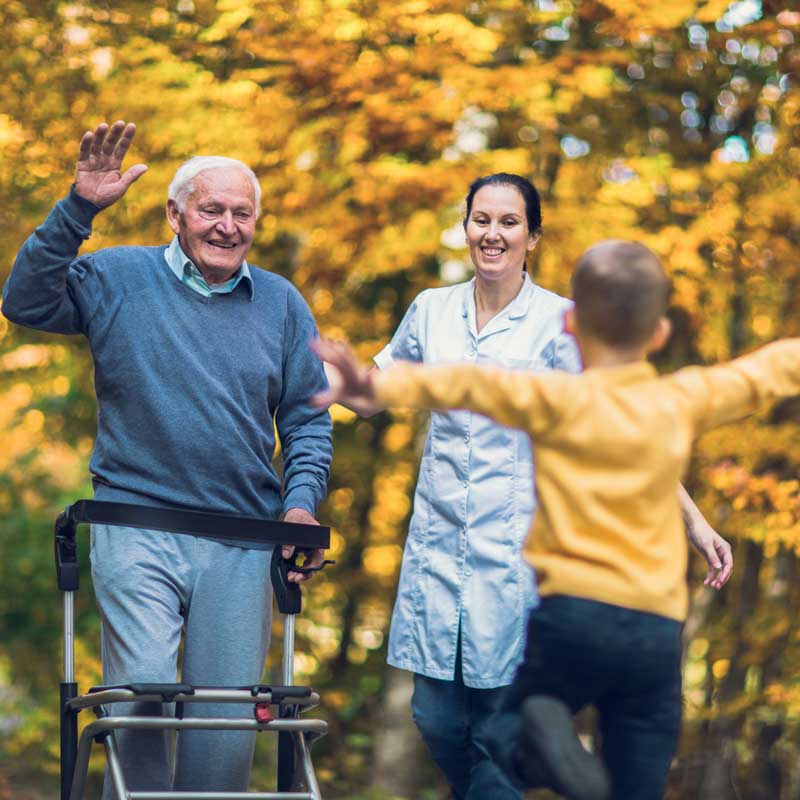 "Thank you so much for your wonderful care of my mom. For the regular check ins; for answering so many questions; for your patience, attentiveness, intuitive timing, and making mom's last days and ours a smooth transition. What a gift you ALL are!"
Services Offered by Partners In Care
Hospice care is a medical specialty focusing on improving the quality of life for people who are experiencing an advanced, life-limiting illness. Families see the benefit of this type of care when their loved ones can live with an incurable illness as fully and comfortably as possible.
The new Hospice House at Partners In Care offers exceptional in-patient or respite hospice care for those nearing their end of life. Our new state-of-the-art "building within a garden" provides the highest standard of hospice care for patients, while offering a respite for families and a peaceful place to be together.
Palliative care is specialized medical care for those living with a serious illness, focusing on providing relief from symptoms or side effects of an illness or treatment for a better quality of life. This type of care can be provided alongside curative treatments from the beginning of a diagnosis with the goal of a more comfortable experience.
Home health care assists patients recovering from surgery or illness, or living with a chronic disease and residing at home. Home-based skilled nurses and specialized team members meet patients wherever they call home and are available 24 hours a day, seven days a week with coordinated care by an interdisciplinary team of providers and support members.
Transitions is a no-cost, non-clinical care coordination program that works with patients to help them navigate clinical and community resources, make more informed medical decisions, and understand advanced care options.
We meet people where they are in their grief journey by hosting a variety of programs and support groups for people of all ages and types of grief relationships. The community is invited to participate in these no-cost sessions.
Partners In Care is proud to provide a Veteran's Outreach Coordinator who served in the military and can help care for the unique needs of our veterans. We also offer an array of programs specific to veterans in honor of their service.